Parking Montreal | Find Parking Near Me
Find and book your parking space in seconds
Parking available by downloading our app
Download the app and park your vehicle now.
Hourly, daily and monthly parking spaces available anywhere on the Island of Montreal.
Reserve the best Montreal parking lots near all your favorite activities with the help of clicknpark. Download the application, type in the address of your destination and start the search, you will discover a wide array of short and long-term parking lots near your destination.
We have parking options throughout the city and for all durations.
Discover contactless parking with clicknpark
clicknpark continues to offer you a contactless solution. No buttons, doors to open or tickets to enter: everything is done from your mobile phone.
Tired of driving around Montreal looking for a place to park? Reserve your place in advance with clicknpark.
We offer drivers a convenient and affordable way to park with an app both quick and simple. Let clicknpark help you find nearby parking spaces. We make your reservation easier: find the best parking offers in the city in a few seconds.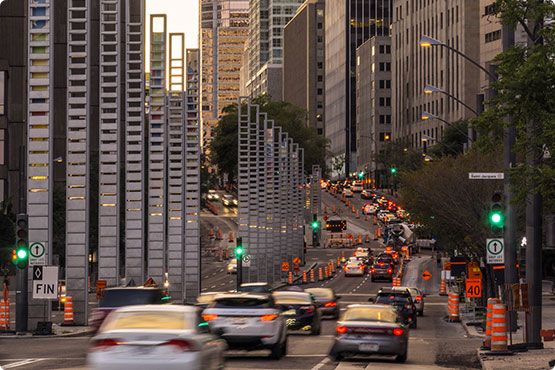 Indoor parking spaces available near all Montreal attractions.
Welcome to all tourists
Located on an island in the middle of the St. Lawrence River, Montreal has flourished to become a cosmopolitan business and entertainment hub. Montreal is the second largest French-speaking city on the planet.
Despite its imposing size, downtown Montreal is where tourists will find the most popular activities: museums, art venues and shops are mostly located in the city center. near the old town. This is where you'll find Sherbrooke Street, the city's most elegant main street.
Sherbrooke Street is the backbone of the city and the location of many major museums and businesses. Ste-Catherine Street is Montreal's main shopping avenue, lined with department stores, boutiques and restaurants.
Interested in a monthly Montreal parking? clicknpark can help.
Find parking lots near me
To find and reserve parking in downtown Montreal, download the application, select the desired date and time and see availability on the map.
How much does a parking space cost in Montreal?
On average, the cost of a parking space in Montreal is $2.50/hr or $165/month. The area where you are located, the time of day and the services nearby are factors that greatly influence this cost. Download clicknpark now to consult the best prices according to your destination. 
What should I do if I need more time for my parking?
Have you booked with clicknpark? It's easy. Just go to the "Reservations" section of the app and click on your space. A function to add hours will appear.
Can I use the app to rent long-term parking in Montreal?
Absolutely. You can now reserve your long-term parking space in Montreal (one month or more) by checking the availability of the different spaces.