Parking Rosemont / La Petite-Patrie | Find Parking Near Me
Find and book your parking space in seconds
Book & pay with the app
Download the app and park your vehicle now.
Hourly, daily and monthly parking spaces available anywhere in Rosemont/ La Petite-Patrie
Reserve the best Rosemont/ La Petite-Patrie parking lots near all your favorite activities with the help of clicknpark. Download the application, type in your destination's address and start the search, you will discover a wide array of short and long-term parking lots near your destination.
We have parking options throughout the city and for all durations.
Discover contactless parking with clicknpark
clicknpark continues to offer you a contactless solution. No buttons, doors to open or tickets to enter: everything is done from your mobile phone.
Tired of driving around Rosemont/ La Petite-Patrie looking for a place to park? Reserve your place in advance with clicknpark.
We offer drivers a convenient and affordable way to park with an app both quick and simple. Let clickNpark help you find nearby parking spaces. We make your reservation easier: find the best parking offers in the city in a few seconds.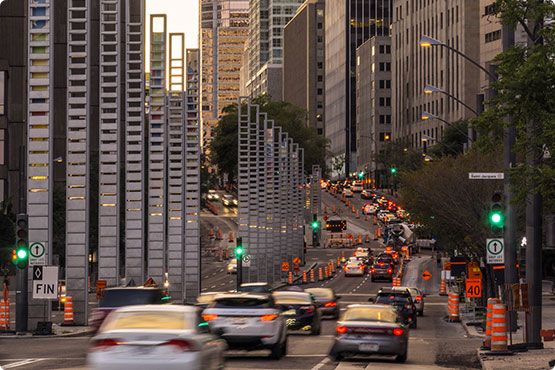 Indoor parking spaces available near all Rosemont/ La Petite-Patrie attractions.
Welcome to all tourists
Rosemont-La Petite-Patrie is a borough in the city of Montreal. It is the 3ᵉ most populous borough in Montreal. Fish farming, hydroponics, green roofs and urban environment: Rosemont-La Petite-Patrie is undertaking and pushing the boundaries of urbanity! Renowned for its commitment to greening, the community is very involved. The borough has more than one hundred green alleys and street gardens. 
In addition, Rosemont has one of the most popular markets in Montreal, the Jean-Talon market. In the list of legendary institutions making the reputation of Greater Montreal, the Jean-Talon market has an undeniable place. During the summer, it is one of the largest open-air markets in North America. 
In addition, the environmental program Eco-quartier, created by the City of Montreal, is well attached within the borough and also allows residents to borrow equipment to pursue various collaborative projects.
Finally, the neighbourhood is a very popular part of the island of Montreal and is also very easy to visit using our nearby parking lots!
Interested in a monthly Rosemont/ La Petite-Patrie parking? clicknpark can help.
Find parking lots near me
To find and reserve parking in Villeray, download the application, select the desired date and time and see availability on the map.