Business
Optimize you parking
Business solutions to increase parking revenues. We are your parking partner.
Our business areas
Hotels
Hotels use our solution to increase revenues and enhance client experience with a valet option.
Parking managers
Operators increase their revenues by offering online booking on our app.
Real Estate Groups / Condos / Vacant Lots
Real estate owners use our technology to generate revenues and increase their assets' value.
Religious venues / Community Centers
Our turnkey solution offers new revenue opportunities and makes parkings available to the community.
Use 100% of your parking spots
Our management system reduces your operating costs and increases your assets' value
Immediate income
without investment
Maximize your under-used parking lot

Open the door to thousands of new customers

Targeted advertising to increase traffic

No installation fee
A simple turnkey solution
24/7 customer service

A dashboard allowing you to control operations in real time

A new digital way to park
Our advantages
Simple, flexible and efficient management
Recurring revenue
Access our thousands of users and watch your revenues grow
Dashboard
Access you parking performance data
Verified Drivers
Only verified drivers can use our app
No setup fees
No strings attached, no risk. Revenues from the first booking
Money is yours
Your money is deposited directly into your bank account
Manage your schedule
You control your parking schedule
An environmental gesture
Environmental impact of parking search
Traffic
30% of trafic in large cities is caused by drivers searching for parking.
Fuel consumption
More than 300 million litters of gaz are consumed, and 5 million tons of CO2 are emitted, each year by drivers looking for parking.
Pollution
Parking maintenance causes more CO2 emissions than merely driving.
Centralized management
Dashboard
Our dashboard allows you to view bookings in real-time:
Financial reports

Vehicle information

Current and future bookings

Management of rentals according to your schedule

Revenues generated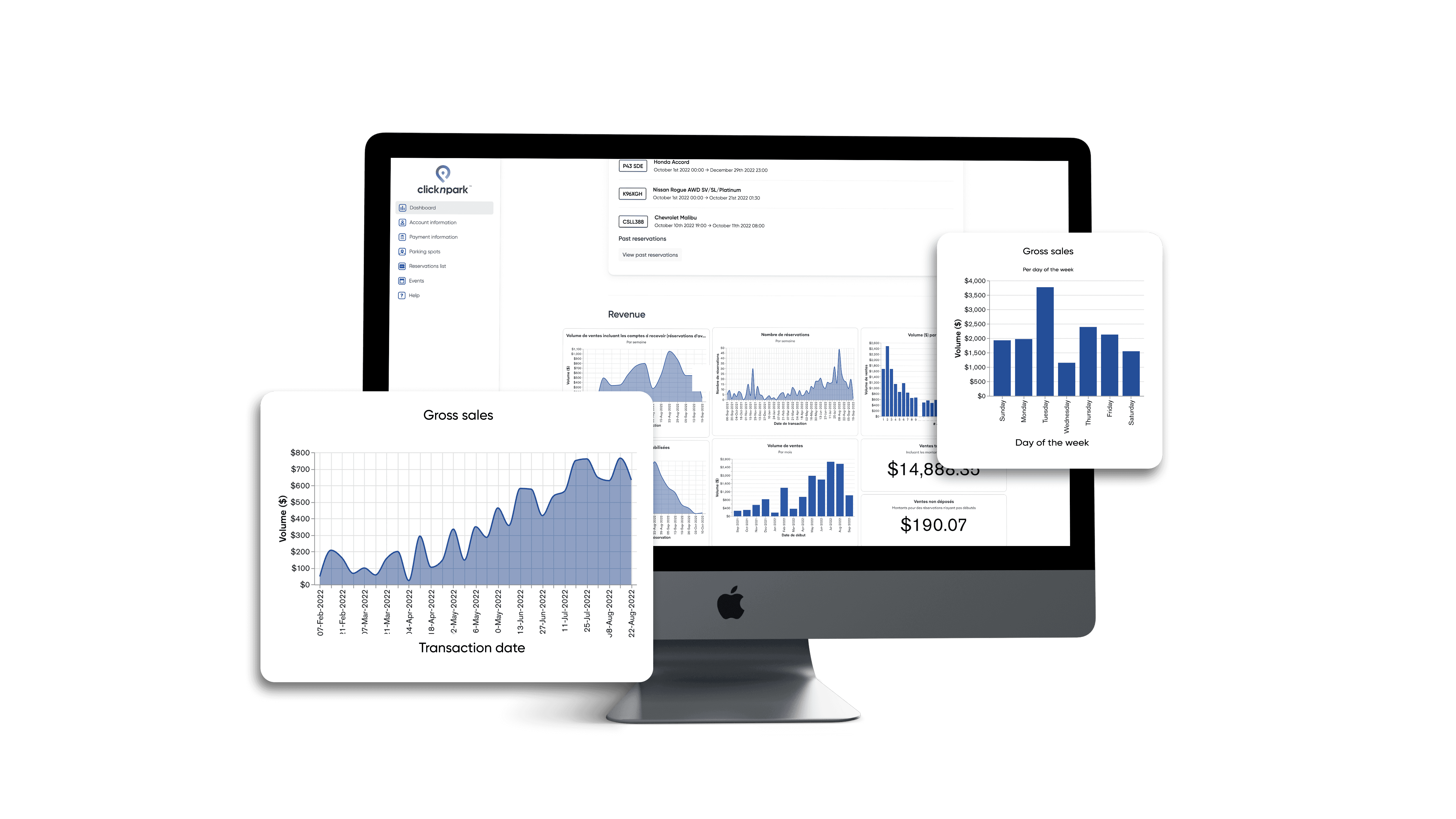 Solution for employees
Parking issues are complex and cause a lot of frustration. Save your employees time and money with clicknpark.
Clicknpark provides managers employee with parking solutions with clarity and control. Increase employee satisfaction with flexible parking policies.
Serve more employees with less parking
Clicknpark's solution is agile and compatible with flexible work schedules. Employees can book parking according to their schedule.
Increase flexibility and reduce costs
Managers can make sure that each parking spot is used to its full potential , eliminating the need for additional parking.
Increase the availability of your parking spots and make more with less with a centralized parking management platform.
A spot can accommodate 3 to 5 people.
Opens any kind of garage door or gate.
Sesame module
Fully integrated
Designed internally, our Sesame module is easily installed on any type of garage door or gate, without fees to the owner.
Sesame is entirely independent thanks to its battery and cellular or bluetooth connexion.